Intelligent Automation and Telemetry
---
Increasing in recent years both in the Brazilian and international markets, this is an innovative solution for telemetry, automation and control and CAS has an extensive installed base in operation with several clients.
Metering Smart Grid by CAS Hemera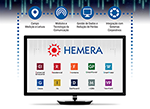 Any meter, any manufacturer, a single solution.
Features of CAS Hemera Smart Grid Metering that serves the entire electricity distribution network.
RS2000 Transparent Bridge